Learn about ASCCT Awards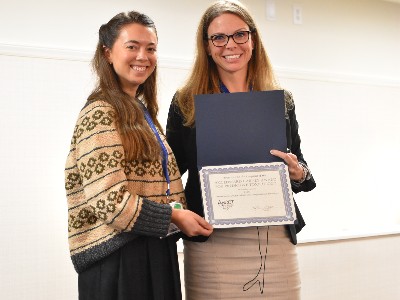 To support promising science, the ASCCT provides awards at its annual meeting as well as ad hoc travel awards throughout the year to help early-career investigators attend relevant conferences. See below for more information. Contact the Secretary for more information or to suggest a partnership.
The Ed Carney Predictive Toxicology Award recognizes the first author of an outstanding poster or platform presentation that will advance predictive toxicology, and is named after Dr. Ed Carney, a member and supporter of the ASCCT and a leader in the predictive toxicology field. Special thanks to the family of Ed Carney for continuing to provide support for this award. Previous winners include:
2022: Anna van der Zalm, PETA Science Consortium International: A Modern Framework to Establish Scientific Confidence in NAMs
2021: Dr. Kelly Carstens, US EPA ORISE: Analyzing multi-dimensional developmental neurotoxicity new approach methodologies: Computational approaches to identify phenotypes.
2020: Eva Vitucci, University of North Carolina, Chapel Hill: Identifying the Molecular Mechanisms of Air Pollution-Induced Thrombosis
2019: Ignacio Tripodi, University of Colorado, Boulder: Toxicological mechanistic inference: Generating mechanistic explanations for adverse outcomes
2018: Sudin Bhattacharya, Michigan State University: Integrating Genomics and Epigenomics Into Predictive Toxicology of the Aryl Hydrocarbon Receptor
2017: Ellen Garcia, Virginia Tech: Characterization of two lung cell lines for use in cell division focused, single-cell toxicity assays
2016: Emma Bowers, University of North Carolina, Chapel Hill: Modeling a complex in vivo response in vitro: Exploring heterogeneity and mechanisms associated with ozone adaptation.
2015: Nicole Kleinstreuer, NICEATM: Identifying reference chemicals for androgen receptor activity
The Ray Tice Tox21 Student Award is presented to recognize the best student presentation during the meeting and was established with a generous donation from Dr. Ray Tice, a leader in implementing and setting the stage for Toxicity Testing in the 21st Century. Previous winners include:
2022: Amy Carpenter, US EPA ORISE: Evaluation of the ToxCast Assay Suite for Detection of Neuroactivity
2021: Anouck Thienpont, Vrije Universiteit Brussel: Development of a novel genotoxicity prediction model based on biomarker genes in human HepaRGTM cells
2020: Sherri Bloch, Université de Montréal: Using in Vitro Data to Derive Acceptable Exposure Levels: A Case Study on PBDE Developmental Neurotoxicity
2019: Vy Tran, Johns Hopkins University: Comparing Gene Networks Between MCF-7 and Human Breast Cancer Tissues
2018: Dan Russo, Rutgers University: Developing Mechanism-based Animal Toxicity Models-A Chemocentric Approach Using Big Data
2017: Wenyi Wang, Rutgers University: Mechanistic Evaluation of Chemicals that Induce Oral Acute Toxicity by Mitochondrial Membrane Disruption: Big Data Profiling and Analysis
The Suzanne Fitzpatrick Student Travel Award supports the travel of students of any level to present at the ASCCT annual meeting, and is named for Dr. Susanne Fitzpatrick. Dr. Fitzpatrick was awarded the William and Cave Award in 2020 in recognition of her leadership in facilitating the evaluation and use of NAMs for FDA-regulated products for many years, with which funds she established this award. Winners include:
2022: Sunggun Lee, Duke University for his poster Applying Deep Learning Toxicity Models Across the Chemical Universe.
The ASCCT also awards poster awards for exceptional poster and flash poster presentations during the Annual Meeting. 
In 2022, awards were granted to:

Amber Daniel, MS, Inotiv: Facilitating Global Connections through the Microphysiological Systems for COVID Research (MPSCoRe) Working Group
Jesse Rogers, PhD, US EPA: Integrating High Throughput Transcriptomics into a Tiered Framework to Prioritize Chemicals for Toxicity Testing
Kelly Carstens, PhD, US EPA: Evaluation of Per- and Poly Fluoroalkyl Substances (PFAS) in Vitro Toxicity Testing for Developmental Neurotoxicity
Daniel Ehrlich, Duke University: Data-Driven Derivation of an Adverse Outcome Pathway Linking VEGF and Cardiotoxicity
In 2021 Applied In Vitro Toxicology offered a $300 award and 1-year subscription to one early career scientist focusing on applied work that stands to make a lasting impact on NAMs implementation. The winner of this award was Dr. Agnes Karmaus, Integrated Laboratory Systems, Inc. for her presentation Annotating and Visualizing In Vitro Data to Gain Context.


20th International Workshop on (Q)SAR in Environmental and Health Sciences
As part of ASCCT's partnership with the International QSAR Workshop series of meetings, which are held every 2 years in North America and Europe, ASCCT sponsored two travel awards for students traveling to the QSAR2023 workshop in Copenhagen, Denmark. Congratulations to our winners!


Nada Daood, Rowan University: 

Predicting Chemical Immunotoxicity Through Data-Driven QSAR Modeling of Aryl Hydrocarbon Receptor (AhR) Agonism
Arkaprava Banerjee, Jadavpur University: Machine learning-based q-RASAR approach for quantitative risk assessment of hERG channel blockers